Check out the Mandaree School website for the new 22-23 school calendar and updated Events schedule for the year. All school days are listed.

Mandaree School Registration is open daily M-F 8am to 4pm. New to the District students bring a Birth Certificate, Immunization Record & Degree of Indian Blood (if applicable). Returning students please update your contact information and bring an updated immunization record (if applicable). Call the school 759-3311 if you have questions. Thanks and see you at the Powwow!

Mandaree COVID19 Vaccine Clinic today June 2nd from 2:00 to 4:00 pm at the Mandaree School gym. Boosters are also available for ages 5 to11 yrs old.

Senior Class Fundraiser: Taco in a Bag, Baked Goods & Root Beer today @ noon to 1:30 pm. Baked Goods $2, Taco in a Bag $5, Root Beer Floats $4 Please come and support our Seniors!

There will still be Saturday Academy tomorrow March 26th and Track Practice on Monday & Tuesday.

Virtual Learning Days: Monday, March 28th & Tuesday, March 29th. Packets will go home with students today. This is not COVID related.

Parents/Guardians of Mandaree School Students: we have home COVID-19 test kits available. Each household with student enrolled at Mandaree School is eligible for five (5) kits per household. Please contact the school to make arrangements to pick up them up.

Parents/Guardians: please make sure your students have turned in all their packets from last week. No packet means absent and no grade. Follow up with the teacher as Thursday, March 17th is the deadline. Thank you.

Dinner to honor all Girls & Boys basketball teams tonight @ 6pm at the community center. There will be group & individual pictures taken for a fee. Call Bernadine Fredericks at 759-3377 if you have any questions.

Quarter 3 ends Thursday, March 10th. No Saturday Academy this weekend.

HS Track Practice begins today. Students meet at the new gym for sign in.

REMINDER: Friday, Feb. 25th is a Regular School Day & there is Saturday Academy Feb. 26th.

SPIRIT WEEK Boys Districts: Winning Wednesday wear your favorite jersey, Tie Dye Thursday and Fearless Friday, wear Maroon & Gold. GO WARRIORS!!

HS Boys District 15 Tournament @ Four Bears Event Center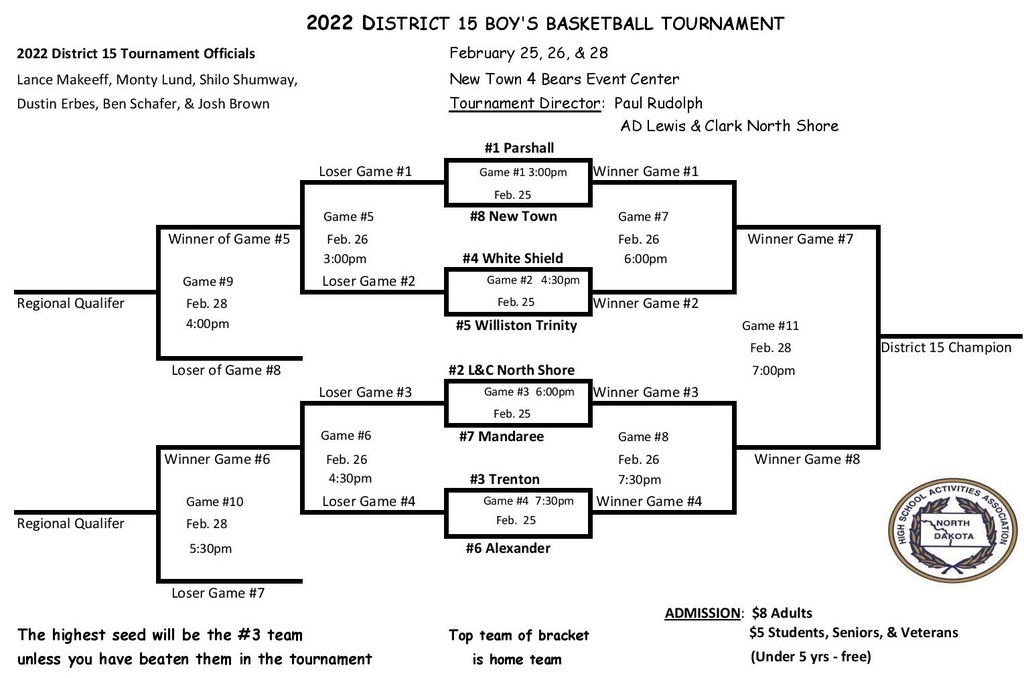 We are proud of our Lady Warriors for their victories at Districts, qualifying for the Region 8 Tournament. First game vs Kenmare Monday, Feb. 21st @ 6pm. GO WARRIORS!!!

CONGRATULATIONS to Ashlyn Grady, Tianna Lester & Aiyona Johnson on their awards and honors at the Dist. 15 tournament. Good Luck at Region 8.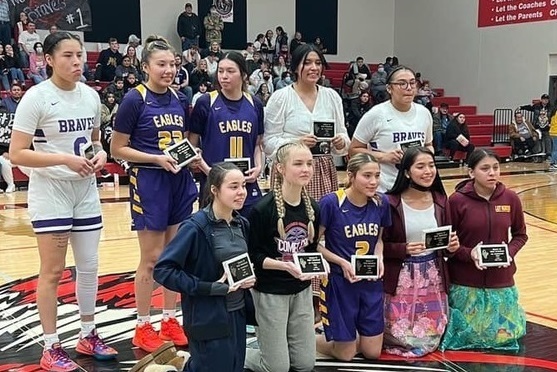 Congratulations Lady Warriors on your victory over L&C Northshore!! Good Luck tonight as we play New Town Eagles Game #6 at 7:30 today. GO WARRIORS!!

Parent Teacher Conferences have been rescheduled to Thursday, February 17th from 4:00 to 8:00 pm. Virtual Visits.


Virtual Learning for remainder of the week to include Friday, Jan. 28th.